I've been thinking it's just about time to make the change to a lighter "throw" for our living room. Whether it's 30 or 80 degrees outside, Netflix binging must be accompanied by some type of blanket. It absolutely must. Are ya with me?
Full disclosure: We have three blankets we use in our living room and 0/3 are cute or trendy, but they are all super soft and warm.
The past few weeks I have randomly browsed for a lighter blanket. I wanted to quickly share a few options in case you are also on the cusp of putting your winter blankets into hibernation. I'll even go further and just tell you, flat out, West Elm has the best selection and price point I've found.
Popcorn Knit Throw, West Elm $29.99 (sale item)
2. Woven Summer Throw, West Elm $39
3. Woven Pom Throw, Anthropologie $88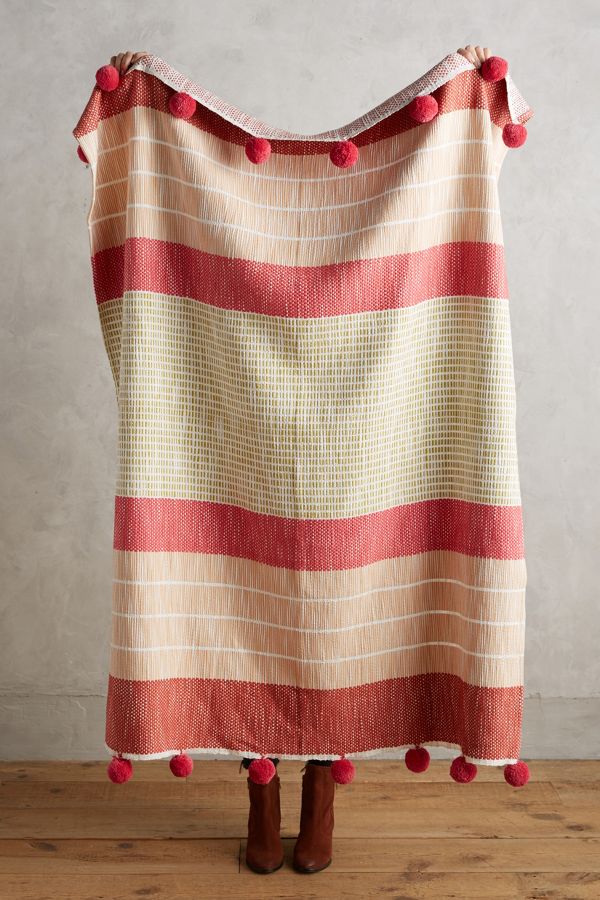 Any of these strike your fancy? If you are looking for a more exhaustive list, head on over to my domaine and cruise through this post of 16 dazzlers or houzz for more ideas.
BTdubs:
I've decided to change the "afterthought" to BTdubs because it just felt right. Have you been enjoying the Monday Short and Sweet? Let me know would ya?
The featured image at the beginning of the post is UK based, Decorator's Notebook. They have really unique patterns and seem to have thoughtful reviews of their products. They are definitely worth a look through for inspiration, click to be inspired 🙂